Hartland Girls Win Regional Basketball Title
March 9, 2018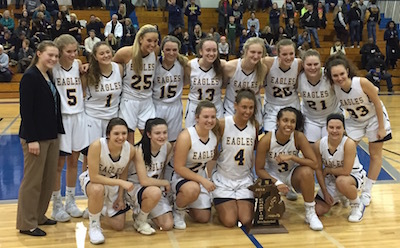 Hartland's girls team won its second regional basketball title in four years Thursday night with a 60–56 win over Walled Lake Western at Western. Whitney Sollom had a career-high 25 points to lead the Eagles, but it was senior Greyson Cockerham who put the game out of reach by sinking a couple of free throws with 10 seconds left. Cockerham was a freshman when the Eagles won their last regional three years ago.

Cockerham finished with 12 points and Madi Moyer 10- for the Eagles, who will take on Wayne Memorial in Tuesday's Class A quarterfinal at Southfield. Fowlerville didn't fare as well. The Gladiators, playing in their first-ever regional final, lost to Jackson Northwest 48-43.

At least one local team will be going to a boys regional semifinal on Monday. Who goes will be determined tonight, when Hartland takes on Howell in a Class A district final at Howell High School. Hartland has gotten hot, having won four of its last five games, while Howell is looking for its fourth title in five years.

In hockey, Hartland earned a spot in Saturday's Division 2 championship game by rolling past Ada Forest Hills Northern-Eastern 9-1 Thursday night at USA Hockey Arena in Plymouth. Jake Behnke had a hat trick, all of them on the power play, and Josh Albring had four assists. The Eagles will take on Trenton, whom they lost to the last time they made the finals in 2014.

Tonight, Brighton will take the ice in a Division 1 semifinal against Detroit Catholic Central. The teams have met four times in the championship game the last five seasons, each winning twice. The teams last met on December 16.

Tonight's game is at 7:30. The winner will take on either Saginaw Heritage or Traverse City West in Ssturday's championship game.